Links to get you started

SquadCast (affiliate link) connects podcast hosts, co-hosts and their guests to record studio quality audio from anywhere. They've made it easier for you to have remote conversations without compromising quality. All of your audio (or video... yes they capture video) tracks can be exported separately to give you more flexibility when editing. Click on the link above and use STUDIOPODSF to get $10 of your first month with 7 days free.
Riverside.fm (affiliate link) makes it easy to record remote podcasts and video interviews that look and sound like they were recorded in a million dollar studio. Magic Editor allows editing within the interface and Clips makes it easy to create short-form content to promote.
Captivate (affiliate link) is the hosting platform of choice for StudioPod Media. They have not only made it easy to distribute your podcast, but they continue to innovate ways to streamline the podcasting process.
Descript (affiliate link) is the perfect tool if you are looking to edit your own podcast. You simply upload your audio, it transcribes and then you can edit the content by editing the text. Check out an overview below and click on the link to get started.


Exclusive Equipment Packages


Broadcast Supply Worldwide is our go to audio retailer for outfitting our studio and home recording setups. In partnership with their team, we created three exclusive packages to help you launch a high-quality sounding podcast. To take advantage of our exclusive pricing and free ground shipping, please reach out to Jamie Singer from BSW directly.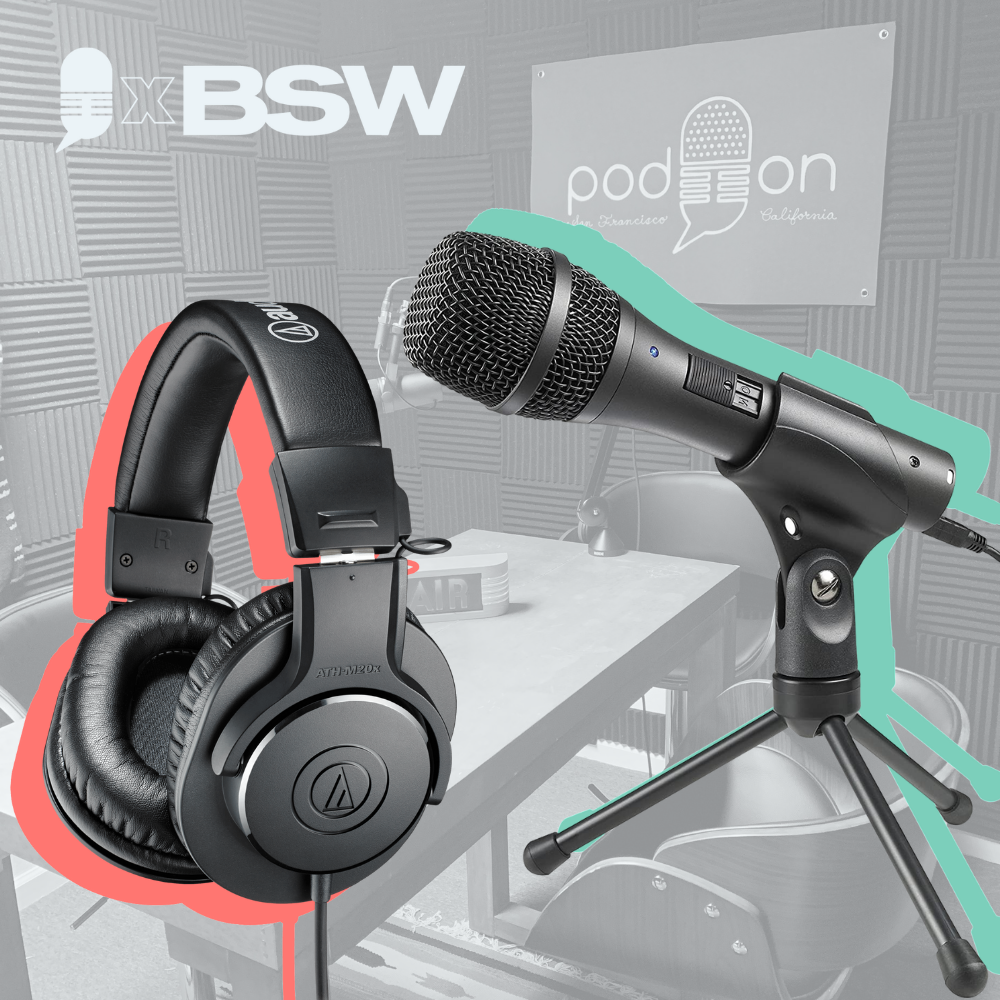 Starter X BSW
Great for an individual host, the dynamic cardioid mic is key for imperfect recording environments. The USB feature allows you to simply plug it into your computer and hit record.
Audio-Technica AT2005USB mic with stand
Audio-Technica ATHM20X headphone
Regular Price: $163
StudioPod Price: $129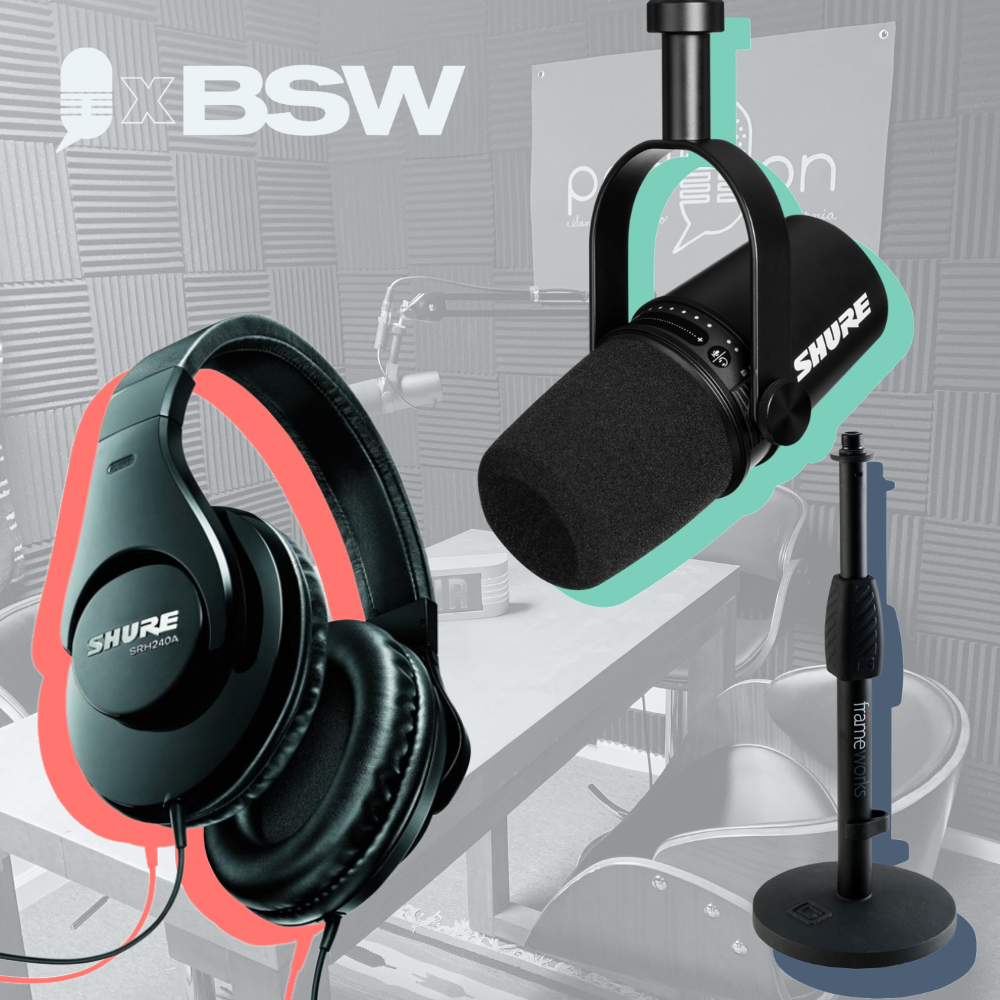 Intermediate X BSW
The Shure MV7 is a staple to elevate your home setup. It's a professional broadcast mic, with USB plug-in and record capabilities, with the option to customize based on your recording environment as you get more comfortable. Check out BSW's review of this mic for more details.
Shure MV7 USB broadcast dynamic mic
Shure SRH240A-BK headphone
Gator GFW-MIC-0601 mic stand
Regular Price: $349
StudioPod Price: $249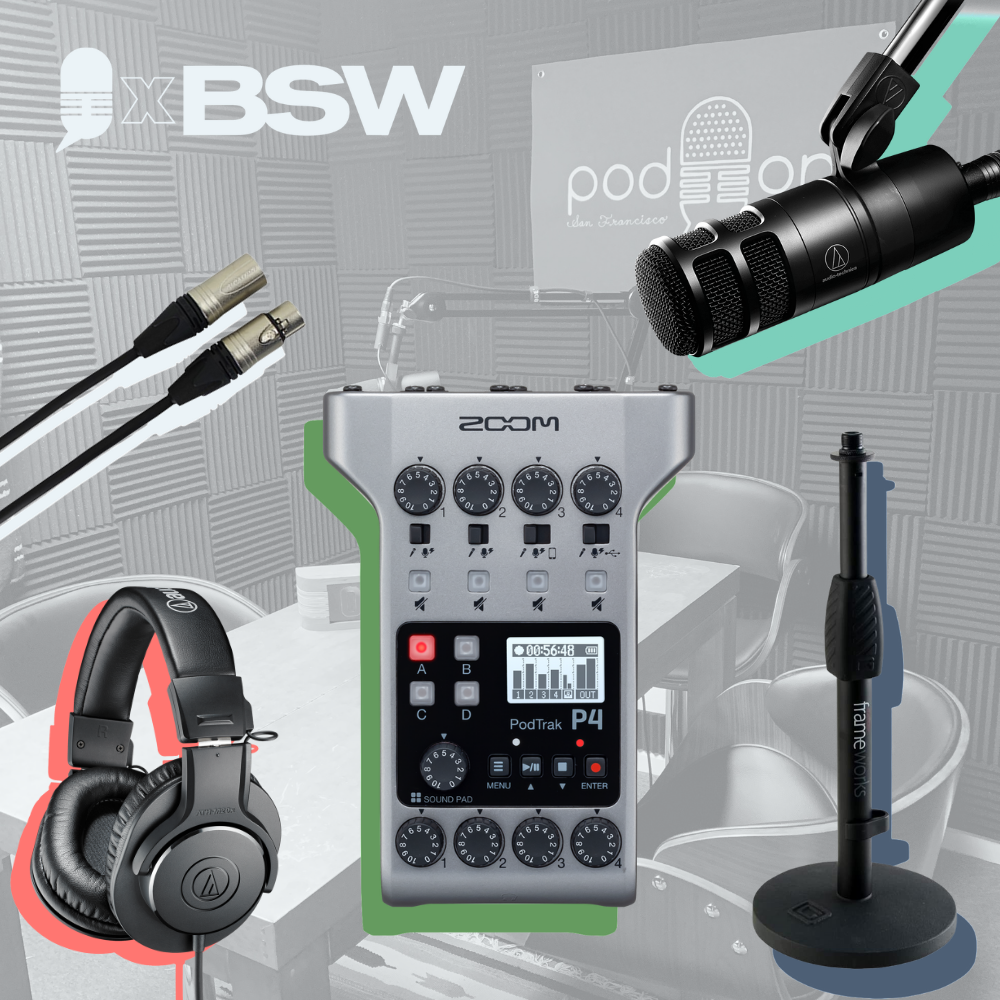 Professional X BSW
When recording with a group or away from your computer, the Zoom PODTRAK-P4 should be the centerpiece. It's a compact recorder that can connect 4 XLR mics and capture remote interviews via phone.
Zoom PODTRAK-P4
Audio-Technica AT2040 broadcast dynamic mic
Audio-Technica ATHM20X headphone
Gator GFW-MIC-0601 mic stand
Proco EXM5 5ft XLR
Regular Price: $402
StudioPod Price: $345
Check your inbox to confirm your subscription